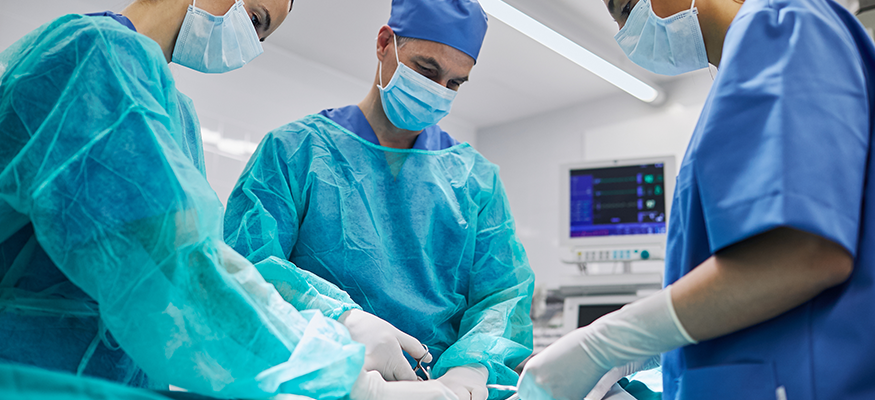 Thank you for choosing to have your surgical procedure at Chesapeake Regional Medical Center. Please read this page carefully and follow the instructions provided to ensure that you are prepared for your upcoming surgery.
Hospital Registration
Within a few days of your surgery, staff from our insurance and registration departments will contact you for information. Both a picture ID and your insurance cards are required for registration.
Once your surgeon's office "books" or reserves a place for you on the operating room schedule, your insurance will need to be verified by the surgeon's office and by the hospital. Our insurance department will contact you regarding your coverage and policy numbers. Please make sure that the policy numbers and name on the policy are correct. Insurance payments can be denied or delayed if information is incorrect.
Please verify that all information is correct prior to signing any forms. Your name and date of birth are especially important since these are used as your patient identifiers and this information is sent to your insurance company. If any information is incorrect, your claim could be denied.
Hospital registration is open from 8am - 5:45pm.
Surgery Pre-registration
Before a procedure can be performed, we want to ensure all of your demographic and insurance information is completed. We are responsible or verifying the information and complying with all insurance requirements prior to the day of surgery. Though it is your responsibility to be familiar with your insurance and to obtain authorization if required, our knowledgeable staff is here to assist you.
Upon admission to the hospital, a copy of your insurance card(s) is required. Call 757-312-6119 for questions regarding surgery pre-registration. Alternatively, you can visit the surgical services portion of our website.
OB Pre-registration
Please fill out the OB pre-registration form that was provided by your obstetrician and mail it to the hospital at 736 Battlefield Boulevard, North in Chesapeake, Va., as soon as possible, or fill it out online. Your obstetrician's name must be included on this form.
For information on tours of the labor and delivery unit, please call 757-312-6508 or watch a tour here. For questions regarding OB pre-registration, call 757-312-6186.
Scheduled Outpatient Diagnostic Testing
Though you should be familiar with what your insurance company will cover, our knowledgeable staff is here to assist you. We will also be able to guide you in receiving any necessary authorizations for your procedure as required by your insurance company. We require that you present your insurance card upon arriving at the hospital. If your order is not already on file, your procedure cannot be completed. We also ask that you prearrange with your physician how your orders are to be received by the hospital.
For questions regarding the hospital diagnostic testing pre-registration, call 757-312-6699.
Financial Information
Complete insurance and billing information must be provided at the time of registration or admission. As a service to patients, hospital representatives will complete and submit claims to insurance companies and other third-party payers on the patient's behalf. Most insurance companies require that patients obtain authorization before receiving hospital services. In that case, the patient must submit documentation that such authorization has been secured. Any expenses unpaid by insurance companies are the responsibility of the patient.
If your health insurance does not cover all hospital charges, payment is expected at the time of service unless prior arrangements have been made. Chesapeake Regional accepts a variety of payment methods, including cash and credit cards.
For those unable to pay in full at the time of service, the hospital will accept monthly payments on a pre-determined schedule, as stated in the hospital billing and payment policy and which is established with a credit representative or financial counselor. Chesapeake Regional provides additional financial assistance for qualified applicants. To apply for financial assistance, a financial application and financial statement must be completed and submitted along with proof of income for initial consideration. Additional verification may be necessary in order to complete the application process.
Learn more about important billing & insurance information as it concerns your care at Chesapeake Regional.