There's no other day quite like a birth day! At the BirthPlace, you will receive personalized, patient-centered care with all of the services, education and support you expect. We deliver high quality, compassionate care to every baby, mother and family.
Getting Ready for the Big Day
Our physicians, nurses and care team are dedicated to helping you through your entire birthing experience. It is our goal to provide you with the best possible care while also preparing you to care for your newborn at home.
If you are looking for a board-certified physician to deliver your baby, Chesapeake Regional Gynecology & Obstetrics offers a wide range of services.
We also offer a variety of parenting and childbirth classes.
Due to COVID-19, tours and classes have been suspended until further notice. Please call 757-312-6508 for more information.
Sweet Seedlings Photography
To capture some of your baby's first moments, Sweet Seedlings photography will create images of your newborn in the safety and security of your hospital room. A variety of packages are offered to suit your needs and budget, and photographers will supply professionally edited images the same day as the photoshoot. If for any reason you are unable to have photos taken during your stay, Sweet Seedlings provides the option to schedule an appointment for a later date.
Obstetrics Emergency Department (OB ED)
To help eliminate the anxiety and stress expectant mothers might experience when visiting a traditional emergency department, Chesapeake Regional has developed an OB ED that ensures quick, efficient care. The obstetrical provider can assess, treat and discharge patients much faster than in a general emergency department or obstetrical triage setting. It's a valuable resource for pregnancy-related emergencies that just can't wait until morning.
In-House Hospitalists
Available 24/7
To provide the absolute highest standard of care to patients, we have partnered with Ob Hospitalist Group (OBHG) to ensure that an experienced OB/GYN is available 24/7 to evaluate and treat women with pregnancy and post-delivery concerns.

OBHG hospitalists are physicians who are trained in best practices to care for pregnant women while they're in the hospital and their obstetrician isn't available. They do not replace the care patients receive from their regular OB/GYN physician. Instead, they serve as an extension of the patient's regular doctor and the high-quality care that doctor provides.

In addition to handling deliveries, OB hospitalists assist with any issues or emergencies that may arise, regardless of whether patients have their own doctors. This includes anything from elevated blood pressure to more serious issues that may require immediate surgery.

Pediatric hospitalists are also available 24 hours a day. We share highly specialized neonatologists who also staff the local children's hospital.
Video Visits
Ask-A-Nurse
Do you have a quick question about pregnancy, labor, newborn care or breastfeeding? Our BirthPlace nurse experts can help with any of these topics, plus concerns about follow up care for you or your baby. To schedule a time to simply talk with the nurse who cared for you, or arrange a video visit, follow the steps below:
With a Chesapeake Regional MyChart account:
Log into your MyChart Account
Go to 'Schedule an Appointment'
Select 'Schedule with a specific provider' (you will see visit types on the next screen)
Choose the reason for your visit (you will see a list of providers on the next screen)
Schedule the appointment 24 hours in advance
Enter a comment
Verify the appointment
Click "Schedule"
Without a Chesapeake Regional MyChart account:
Call 757-312-BABY
Create a Chesapeake Regional MyChart account
Call 1-844-686-3503
Check your email for an activation code
Receive a link and click on it during your scheduled video visit time
Video visits can take place from any video-capable device Monday - Friday, from 9am to 5pm.
Pain Management Options
Depending on the patient's health care provider and certain criteria, the following options are available:
Birthing Balls
Shower
Walking, Movement
Intravenous (IV) Pain Management
Epidural
Nitrous Oxide
Locations
1
2
3
Awards & Accreditations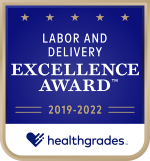 Healthgrades Labor and Delivery Excellence Award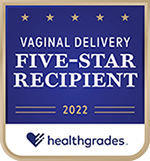 Healthgrades 2022 Vaginal Delivery Five-Star Recipient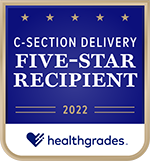 Healthgrades 2022 C-Section Delivery Five-Star Recipient