Chesapeake Regional Healthcare's cardiology program saves lives by connecting our region to leading-edge technology that improves accuracy and shortens recovery. Our comprehensive approach to heart care produces the best heart attack survival rate in Hampton Roads, as compared to other major hospitals, according to data recently published by the Centers for Medicare & Medicaid Services (CMS).
Leading the Way
We combine advanced technology with the rapid response time you need for success. All services, from diagnosis to treatment, are performed under one roof by a team of physicians who provide the highest level of cardiac and vascular care in Hampton Roads and northeast North Carolina.
Best heart attack survival rate in Hampton Roads, as compared to other major hospitals, according to recently published Centers for Medicare & Medicaid Services (CMS) reports*
First fully robotic cardiac catheterization lab in the world
First in Hampton Roads to offer Heart Flow Analysis, a non-invasive method to diagnose heart disease
Nationally accredited Chest Pain Center
* Source: Data.cms.gov – VBP AMI Mortality performance rate published 4/28/21. Performance Period: July 2017- Dec. 2019. Hampton Roads.
HeartFlow® Analysis
A Personalized Heart Test
Coronary artery disease (CAD) is the leading cause of death for both men and women in the United States. CAD develops when the arteries leading to the heart narrow or become blocked, which may lead to a reduction in blood flow to the heart, causing chest pain, heart attacks and death. Despite being the most common form of heart disease, many of the non-invasive tests available today have low accuracy rates in detecting the disease.
Chesapeake Regional is advancing the diagnosis of CAD with the HeartFlow® Analysis. This non-invasive heart test provides a personalized 3D model of your coronary arteries that shows how each blockage impacts blood flow to your heart. This detailed information, which was previously only available through an invasive procedure, helps your doctor determine the next step in your treatment plan.
Introduction to HeartFlow
How it Works
Your doctor will order a coronary CT scan to look for blockages. If additional information is needed, your doctor may order a HeartFlow Analysis. This does not require another appointment and there is no additional risk to you.
Using your CT scan, the HeartFlow technology creates a personalized digital 3D model of your coronary arteries. With trained specialists and powerful computer algorithms, the HeartFlow Analysis calculates how much each blockage limits your blood flow.
Your doctor receives a digital, color-coded 3D model of your coronary arteries. This information helps you and your doctor determine the next step in your treatment plan.
Robotic Heart Care
Increased control and accuracy
The Corindus CorPath® GRX System is the first FDA-cleared medical device to bring robotic-assisted precision to percutaneous coronary and vascular procedures. This new technology provides increased control and accuracy via robotic assisted operation and has greater clinical success in complex cases as compared to comparable manual procedures.
What is the CorPath GRX System?
It's the first robotic-assisted system designed to improve precision during during angioplasty or PCI procedures. Chesapeake Regional is the first hospital in the region to use the system to perform coronary and vascular procedures.
How does it work?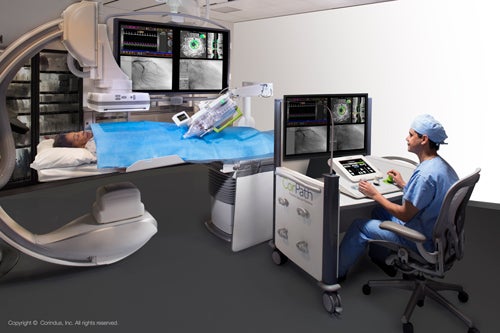 The CorPath GRX System enables your interventional cardiologist with precise, robotic-assisted control of coronary guide catheters, guidewires and balloon/stent catheters while performing angioplasty. IT's an extension of the cardiologist's hands, providing greater precision, stability and enhanced visualization.

The robotic-assisted system consists of two components:
Bedside Unit: The Bedside Unit is the 'engine' of the system that translates your interventional cardiologist's commands into precise movements and manipulations of the coronary guide catheters, guidewires, and balloon/stents catheters. Mounted to the procedure table, the Bedside Unit holds all of the procedure's devices.
Interventional Cockpit: During your procedure, your cardiologist will perform the procedure from the Interventional Cockpit. Placed in the cath lab, next to you, the Interventional Cockpit features a simple-to-use control console interface to precisely control and measure the movement of guide catheters, guidewires, and balloon/stent catheters. The Interventional Cockpit also provides a close proximity view of the real-time monitors, as well as protection from radiation.
Robotic Heart Care Announcement
Watch Mark Toland President and CEO of Corindus announce Chesapeake Regional as the world's first fully robotic cardiac catheterization lab. Read about their announcement in our News & Media section.
Chest Pain Center
We're here when you need it most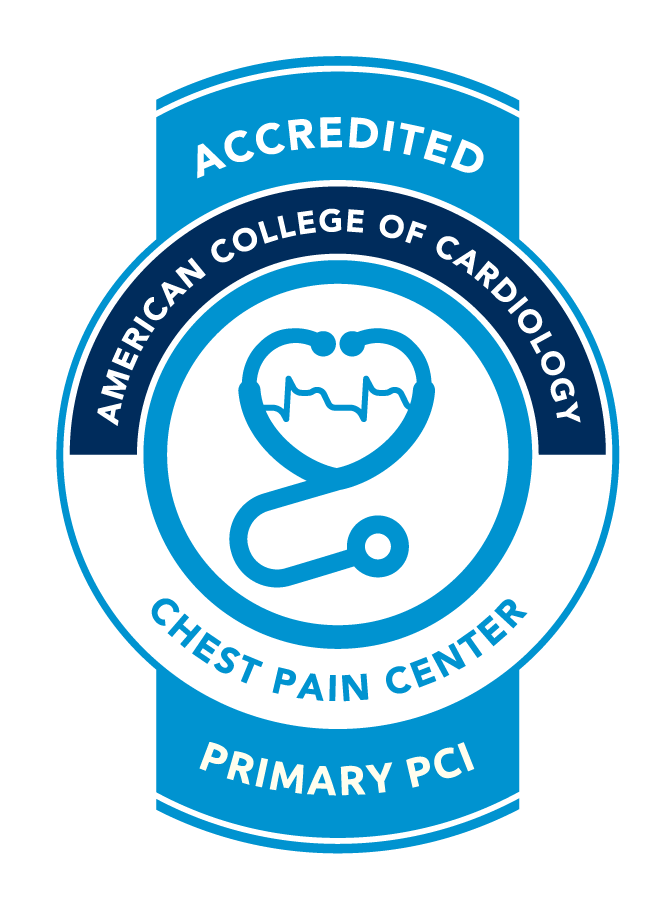 Every 33 seconds, someone in the U.S. dies from cardiovascular disease. That's why we established the Chest Pain Center (CPC) within our Emergency Services Department. We ensure that patients receive fast, accurate diagnosis and treatment as soon as they arrive at our doors. The CPC is a collaborative effort involving a multidisciplinary team of board-certified and nationally recognized interventional cardiologists, emergency physicians, a rapid response nurse team, cardiovascular technologists and EMS personnel.
We treat an average of 8,000 chest pain-related cases annually.
We perform an average of 480 urgent and emergent cardiac interventions annually.
We have a better than average door-to-balloon time (a measurement of the time between when a heart attack patient comes through the door of the emergency room and receives treatment).
For more than two years we have consistently met a door-to-balloon time of less than 90 minutes - the best in the region.
Our Cardiac Catheterization Lab is equipped with Philips' digital flat-plane cardiac-vascular X-ray system.
The Process
From the moment a 911 call is made, an intricate system of steps is in place for patients with chest pain to receive the care they need:
The 911 call is received.
Chesapeake Regional Medical Center's Emergency Department (ED) is alerted.
Emergency Medical Service crews arrive, check vitals and attach a first responder electrocardiogram (EKG).
An abnormal EKG sets off an alarm in the ED.
The Cardiac Cath team prepares for the patient's arrival.
The patient arrives in the ED and is assessed in the Chest Pain Center.
If necessary, the Cardiac Cath team takes the patient to the Cardiac Catheterization Lab.
The patient undergoes an angiography.
Cardiologists work to stent the patient's artery.
The patient is transferred to the Intensive Care Unit after a successful procedure.
Through a partnership with our ambulance services, EMS teams are able to perform EKGs in the field and send the information within seconds to our emergency department. This allows the cardiac team to be in place as soon as the patient arrives at the ER.
Awards & Accreditations