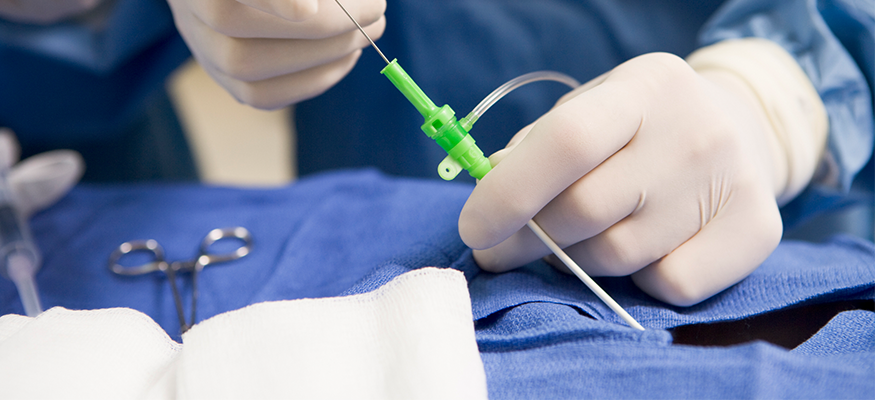 Chesapeake Regional Healthcare's cardiac catheterization labs are the first in Hampton Roads to be fully equipped with the Corindus CorPath GRX Systems, the only robotic-assisted PCI platform cleared by the FDA.
Services
In addition to the CorPath® GRX System for performing antioplasties, the Philips' digital flat-plane cardiac–vascular X-ray system allows cardiologists to compare such images as angiograms and echocardiograms side by side using a distortion free, high-resolution, 3D image of the heart's coronary arteries. The lab offers expanded services to cardiologists, interventional radiologists and vascular surgeons and significantly increases the number of patients cared for at the lab.
Treatments
Most of our cardiac catheterizations are through the radial artery — a blood vessel located in the right arm. A needle is inserted into the artery and a straw-like tube called an introducer sheath is passed into it. Then a catheter is carefully passed through the blood vessel with x-ray guidance until it reaches the heart. A contrast dye is injected through the catheter, and X-ray films are made as the dye moves through the coronary arteries and chambers. The X-ray images allow physicians to determine what is happening in the heart. If they see blockages, it is possible to treat them by performing an angioplasty or percutaneous coronary intervention (PCI) using the same arterial passageway that already contains the catheter. Using wires, stent and balloon catheters, your interventional cardiologist can clear blockages and place stents that keep blood flowing to the heart.
About CorPath® Robotic Angioplasty
Today's consumers have access to technological advancements in all aspects of life from drones to smartphones that act as portable computers. If you need cardiac angioplasty, there is new technology available at Chesapeake Regional that offers advanced precision and benefits both you and your doctor. The addition of the CorPath® GRX System by Corindus provides interventional cardiologists at our hospital with a new, powerful tool.
Chesapeake Regional is the first hospital in Hampton Roads to offer fully robotic cath labs offering state-of-the-art precision to interventional procedures. This helps optimize clinical outcomes and minimizes the costs associated with complications of improper stent placement with manual procedures resulting in robotic precision with sub-millimeter measurement capabilities, advanced automation, and device movements as small as a millimeter.
Learn more about angioplasty
View coverage about our first procedure from the Virginian-Pilot and WVEC.
Click here to hear Mark Toland, President and CEO of Corindus announce Chesapeake Regional as the world's first fully robotic cardiac catheterization lab. Read about their announcement in our News & Media section.
Read an in-depth blog post on What is Angioplasty?