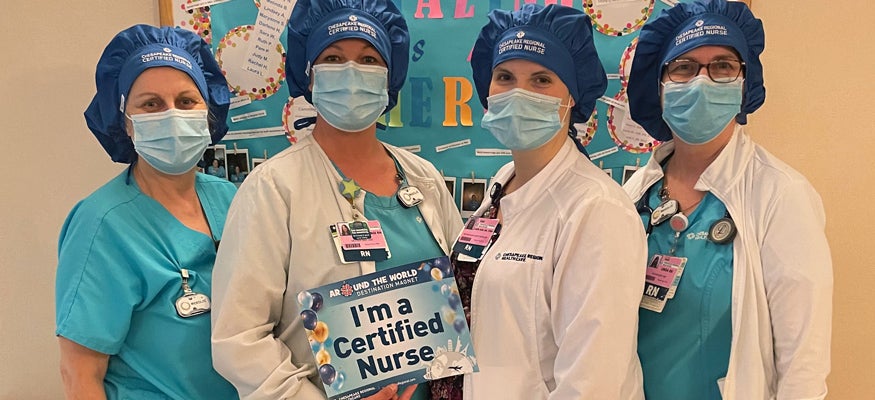 Career Advancement While Staying at the Bedside
We take pride in helping our nurses achieve professional advancement by empowering them to lead practice changes through a shared governance structure. The clinical ladder is a tool developed by Chesapeake Regional to provide staff nurses with career advancement while remaining in the clinical setting. It is used to recognize professional development and differentiates levels of nursing expertise and contribution.
The Purpose of the Clinical Ladder is to
Provide leadership training while remaining at the bedside.

Enhance nursing care by recognizing and utilizing nursing expertise in the care of Chesapeake Regional patients.

Enhance, recognize and reward professional development among nurses.

Give bedside nurses the opportunity to drive best practices in their profession.

Promote the nursing vision throughout Chesapeake Regional Healthcare.
This Clinical Ladder Guideline is developed to assist staff nurses in understanding what opportunities for advancement are available to them, how the clinical ladder system is structured and the process for participation in the clinical ladder. In addition, Clinical Ladder Ambassadors are available with expertise in each clinical area and welcome the opportunity to assist you in your clinical ladder application process. It is our desire to assist all interested staff nurses in reaching their career goals.
Information for Current Employees
If you are interested in the Clinical Career Ladder and you are a current employee, please request information from your unit ambassadors.
Information for Prospective Employees
If you are a candidate seeking more information on our Clinical Career Ladder, please apply on our job board and request information during the interview process.