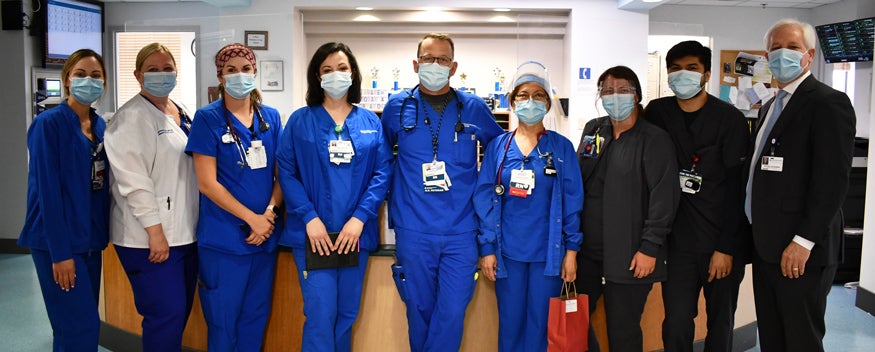 Become More Than Just a Number
Best-in-class, Compassionate Care
Nursing care at Chesapeake Regional is based on Jean Watson's Theory of Human Caring which guides us through a holistic approach that accentuates the human touch as the foundation of our practice. We are committed to delivering best-in-class, compassionate care to our patients through excellence in evidence-based practice and innovation. Because of this, Chesapeake Regional nurses are role models for nursing practice and are recognized as collaborators, educators and mentors.
Our nursing leaders are an experienced group of professionals who are dedicated to their teams, and take pride in helping nurses achieve professional advancement. We empower our nurses to lead practice changes through a shared governance structure, and, whether you're a new graduate or an experienced nurse, we offer professional growth throughout your career with a Clinical Ladder Program, a Nurse Residency Program, a Preceptor Program, tuition reimbursement and specialty certification programs.
As a large community hospital, we offer a variety of clinical areas for nurses to practice. CRH's unique position as one of the few remaining independent hospitals in our area allows us to offer rewarding nursing careers with benefits supporting flexibility, financial security and work-life balance - an approach that empowers our nurses to realize their full potential at work, while still caring for their personal well-being and families at home.
Sign-on and receive $15,000
RN Eligibility:
Must have 2+ years of experience

Nurses with under 2 years of experience, including new RN graduates, are eligible for a $7,500 sign-on bonus

Must be hired into a full-time RN position in any department

Part-time hires with 2+ years experience will receive a $7,500 sign-on bonus
Some positions may not be eligible for bonus

Must sign a commitment agreement to work at CRH for 24 months
Must apply before October 31, 2022
Some of the Benefits at Chesapeake Regional
Caregiver-to-patient ratios that permit nurses to deliver high-touch, quality care to patients

Innovative personal enrichment programs, like our

R.N. Residency Program

Tuition reimbursement of $3,000 for undergraduate and $6,000 for graduate and postgraduate

Highly competitive compensation and benefits

Pay for professional certifications

The

ability to be recognized

by your peers with

the DAISY Award

Flexible work schedules for full and part time staff

A family environment with

a commitment to our community
Living and Working in Chesapeake
Chesapeake isn't just a great place to bring a career, it's a great place to live. Chesapeake Regional Medical Center is in one of the nation's safest communities filled with outstanding schools, miles of friendly, tree-lined neighborhoods and outdoor recreation - all just minutes from the sandy shores of Virginia Beach and vibrant downtown Norfolk, and one hour from the Outer Banks.
Learn More About our Departments
We've created some videos. to help potential candidates learn about the culture and values of Chesapeake Regional. Learn more about our hospital departments!