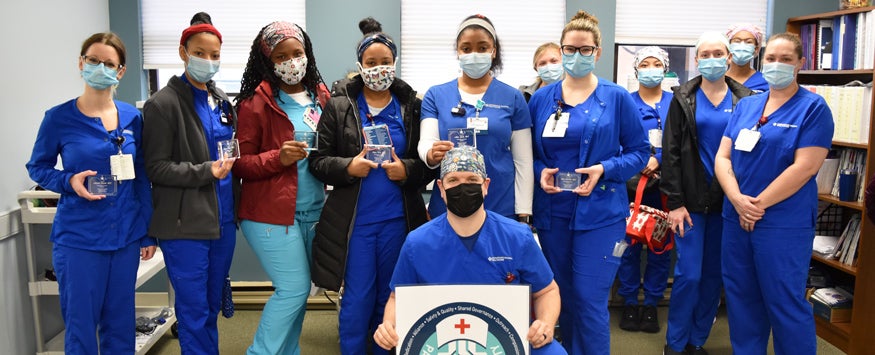 New Graduate Nurse Residency
We offer innovative personnel enrichment programs, like our R.N. Residency Program, to support our staff in providing the high-quality and personalized care that we are known for. Our R.N. Residency Program helps new nursing graduates transition from training to professional nursing, allowing our nurses time to immerse themselves in the culture of CRH while building upon their practice. The program provides these new team members with clinical coaches (preceptors) and physician mentors, as well as the opportunity to rotate through ancillary departments, while receiving collaborative clinical guidance.
Program Overview
CRH's full-time R.N. Residency Program is a six-month progressive orientation designed to enhance participants' nursing knowledge and skills, while developing a personal and professional relationship in a team environment on an assigned unit. With a comprehensive curriculum presented in a variety of educational styles, including presentations, lecture series and clinical rotations to ancillary departments, R.N. residents graduate from the CRH program as highly-qualified practitioners.
Requirements
Candidates for the R.N. Residency Program must have:
Graduated from an accredited school of nursing or have a pending graduation by the end of the current semester

Achieved an overall cumulative GPA of 3.0 on a 4.0 scale

Obtained a Bachelor of Science degree in nursing or be willing to obtain a B.S.N. within three years of employment (tuition assistance is available to employees who qualify).

Obtained an R.N. licensure or be working toward an R.N. licensure
Frequently Asked Questions
What is unique about CRH's R.N. Residency Program?
CRH's R.N. residency program pairs an R.N. resident with not only a clinical coach (preceptor) to assist with building nursing skills and knowledge at the bedside, but also a physician mentor. This allows the resident to build a relationship with a physician and practice open and proper communication for the benefit of the patient. Additionally, the participant will have engaging educational options, career development sessions and a full rotation through all of the ancillary departments of the system.
What is the R.N. resident commitment at CRH?
To support professional growth, R.N. residents are required to follow the customized schedule designed by their clinical coach and program coordinator for six months. They must attend scheduled educational events and career development sessions. The R.N. resident must also sign a two-year commitment to the organization.
How do I apply for a CRH nurse resident position?
Click here to find the job listing and click "Apply Online" to submit an application. The R.N. Residency Committee, which consists of interdisciplinary program leaders, reviews applications and conducts interviews.
How will I know if I have been accepted to the CRH R.N. Residency Program?
The R.N. Residency Committee determines residents and a Human Resources representative contacts selected candidates. Our HR representatives will also share information on our competitive pay rates and benefit programs.
I have another question and want to talk to someone about my future nursing career at CRH!
Call or email the R.N. Residency Clinical Educator 757-312-5140 or RNResidency@ChesapeakeRegional.com.