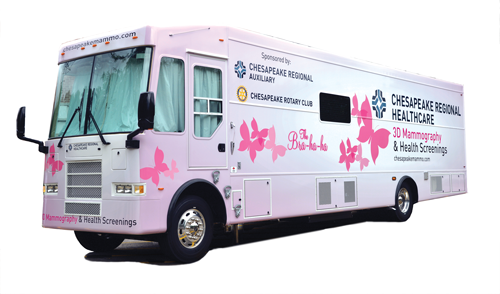 Schedule a screening day for your office, organization, church or community center with Chesapeake Regional's Mobile Mammography Unit. Equipped with all-digital 3D technology to help detect breast cancer in its earliest stages, the mobile unit will bring everything to your desired location.
The 3D mobile unit makes annual screening mammograms easy for women to complete without leaving their workplace, neighborhood or community. Simply provide space in your parking lot, market the screening day and distribute the easy-to-use, customized scheduling link to your employees or group. We'll show up 45 minutes before the first appointment time.
Individual appointments can also be scheduled on available screening days open to the public.
Schedule an Appointment
If you experience trouble registering or viewing available slots, please call 757-312-6400 or visit this page.
Mobile Mammography FAQs
Can any woman get a mammogram on the Mobile Mammography Unit?
Since we only do screening mammograms on the MMU, a woman must not be experiencing any breast issues (lump, nipple discharge, or pain) at the time of her appointment. She must not have had a screening mammogram in the last year, and she must be at least 35 years old.
How old do you have to be to get a mammogram on the Mobile Mammography Unit?
At this time, we only do screening mammograms, on the MMU, on women that are at least 35 years old. Tricare insurance requires their members to be at least 40 years old and only cover women 35-40, if there is a 15% increase in risk for breast cancer. Please talk to your provider, if this applies to you, and obtain a written order indicating that risk.
Can I have a screening mammogram on the MMU, if my last one was 10 months ago?
Our radiologists follow the ACR guidelines on frequency of screenings. We only do mammograms on women, who have not had one in the last 12 months, even if their insurance says they will cover it. We do allow a 30 day grace period, if you have a commercial insurance. If you have Tricare, it must be within a 30 day grace period, and if you have Medicare, it must be done in the same month you had your last one, or later.
Is this mammogram free?
We will bill your insurance for your mammogram. The Affordable Care Act requires that all screening mammograms be covered, in full, by insurance. Therefore, you will not receive a bill for your mammogram.
What if I don't have insurance?
Chesapeake Regional Medical Center has an annual fundraiser called the Brahaha. This fundraiser enables us to perform screening mammograms on women, who don't have insurance. If you don't have insurance, please discuss this with the registrar, and if you qualify, we can use Brahaha funding to pay for your mammogram.
Will you compare it to my previous mammogram?
Yes. If your last mammogram was done at the Jennings Center at Chesapeake Regional Medical Center, or on the Mobile Mammography Unit, our radiologist will have those images available for comparison.
If your last one was done at another facility, we recommend that you have those films sent to us prior to your appointment. If that is not possible, we will ask you to sign a medical records release, at the time of your appointment, to obtain those films. Please remember that the radiologist will only be able to compare them when they receive the prior studies.
Can I just walk-in on the date of the event and get a mammogram?
At this time, we have stopped doing walk-in appointments. All mammograms must be scheduled by calling 757-312-6400, or by going to our website www.ChesapeakeMammo.com, where you can schedule your own appointment.
What are you doing to prevent transmission of Covid-19?
We are following the CDC guidelines to keep patients safe throughout their appointments. To ensure the safety of all patients and clinical staff, the following will be enforced:
All employees will wear masks and self-monitor.
All patients will wear a mask, have their temperature taken, answer a few questions regarding travel history & contact, and use hand sanitizer, once on the unit.
Only one patient at a time will be allowed on the unit.
Between appointments, there will be time allotted to disinfect all areas of the unit, before the next patient arrives.
Physical distancing will be encouraged.
There will be no walk-in appointments.