There's no other day quite like a birth day! At the BirthPlace, you will receive personalized, patient-centered care with all of the services, education and support you expect. We deliver high quality, compassionate care to every baby, mother and family.
Getting Ready for the Big Day
Our physicians, nurses and care team are dedicated to helping you through your entire birthing experience. It is our goal to provide you with the best possible care while also preparing you to care for your newborn at home.
If you are looking for a board-certified physician to deliver your baby, Chesapeake Regional Gynecology & Obstetrics offers a wide range of services.
We also offer a variety of parenting and childbirth classes.
To schedule a BirthPlace tour, call 757-312-6508.
Sweet Seedlings Photography
Sweet Seedlings photography will create images of your newborn in the safety and security of your hospital room. A variety of packages are offered to suit your needs and budget, and photographers will supply professionally edited images the same day as the photoshoot. If for any reason you are unable to have photos taken during your stay, Sweet Seedlings provides the option to schedule an appointment for a later date.
Obstetrics Emergency Department (OB ED)
To help eliminate the anxiety and stress expectant mothers might experience when visiting a traditional emergency department, Chesapeake Regional has developed an OB ED that ensures quick, efficient care.
In-House Hospitalists
Available 24/7
To provide the absolute highest standard of care to patients, we have partnered with OB Hospitalist Group (OBHG) to ensure that an experienced OB/GYN is available 24/7 to evaluate and treat women with pregnancy and post-delivery concerns.
Locations
1
2
3
Awards & Accreditations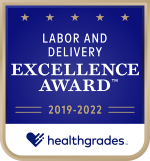 Healthgrades Labor and Delivery Excellence Award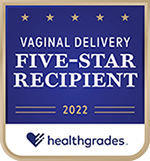 Healthgrades 2022 Vaginal Delivery Five-Star Recipient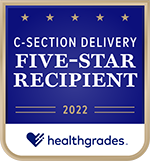 Healthgrades 2022 C-Section Delivery Five-Star Recipient