The most common age for hip replacement is 60 and older. Younger people tend to put more wear and tear on the prosthesis and require a second procedure later on. A a hip replacement should last 15 - 20 years.
MAKOplasty Surgical Procedure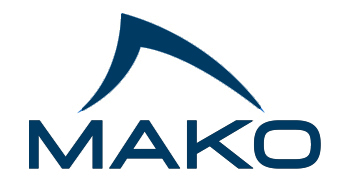 MAKOplasty® Total Hip Arthroplasty (THA), is a procedure known as total hip replacement that is made more precise by utilizing the RIO® Robotic Arm Interactive Orthopedic System. It is indicated for patients who suffer from non-inflammatory or inflammatory degenerative joint disease. RIO® Robotic Arm Interactive Orthopedic System, allows surgeons to achieve a new level of precision with the newest techniques in hip replacement surgery.
This technology offers the potential for a higher level of patient–specific implant alignment and positioning to accurately reproduce the surgical plan, an aspect not consistently achieved in manual techniques. Accurate alignment and positioning of hip implants are important factors affecting surgical outcomes and the lifespan of implants.
The robotic arm technology enables a new level of accuracy in implant alignment and positioning – that may mean restored mobility and a return to your active lifestyle.
Characteristics of a Candidate for MAKOplasty
A candidate for MAKOplasty® Total Hip Replacement may experience the following
Pain while putting weight on the affected hip
Limping to lessen the weight-bearing pressure on the affected hip
Pain that may radiate to the groin, lower back, or down the thigh to the knee
Hip pain or stiffness during walking or other impact activities
Failure to respond to non-surgical treatments or nonsteroidal anti-inflammatory medication.
Only your surgeon can determine if you are a candidate for MAKOplasty® Total Hip Replacement.
If your surgeon determines that you are a good candidate for the MAKOplasty® procedure, he or she will schedule a computed tomography (CT) scan of your hip one or two weeks prior to your surgery date. Then, a patient-specific 3-D model of your pelvis and femur from the CT scan is created pre-operatively to plan optimal implant placement. During surgery, the RIO® guides the surgeon in preparing the hip anatomy and positioning the implants. Real-time data and images allow surgeons to know and control accurate implant placement, which can be difficult to achieve using traditional manual techniques.
Home Care Options
Comfort Care Home Health & Hospice's rehabilitation team is specially trained and skilled to care for you in the comfort and familiarity of your own home. Be sure to discuss your discharge needs with your surgeon and family prior to surgery. The Care Manager will assist you and your family in finalizing these plans before you leave.
Patient Care Team
Our Orthopedic Navigator plays an important role in your care at Chesapeake Regional Medical Center. The navigator can help answer your questions, provide pre-surgical information, and assist with your discharge to ensure it goes smoothly. They help improve physician alignment by reducing communication barriers and help patients develop their own goals.
Should you have any questions or concerns, please call 757-312-3042.
Preparing for Surgery
Just as each person is an individual, so too, is every surgery. To best serve you, our process is customized to meet your individual needs and the needs of your surgeon.
You are encouraged to be an active participant in your healthcare and to ask questions. The staff at Chesapeake Regional is committed to providing you with the best care and information available. Please review the Patients & Visitors section of the website for more information.
What About Anesthesia?
Anesthesia is a vital part of the surgical process. Your anesthesiologist needs to know about all your medical and surgical history, especially any problems or conditions with your heart or lungs. Anesthesiologists are medical doctors educated in administering anesthesia and managing your care before, during and after surgery.
Please bring all paperwork with you to Pre-Surgery Admission Testing
Complete medical and surgical history
Complete list of all medications including dosage Pre-Surgery Testing
Previous lab work
Previous electrocardiogram (EKG's)
Consents
Physician orders
Clearance papers
Locations
1
2
3