Our approach to orthopedics at Chesapeake Regional Medical Center puts you first. Because outcomes are better when patients are engaged as partners in their health care, we actively involve you in your care and recovery—even before your surgery occurs. Our independent team of orthopedic specialists offers the most advanced and innovative treatment options for joint issues and pain including MAKOplasty and minimally invasive procedures.
Patient Care Team
Our Orthopedic Navigator plays an important role in your care at Chesapeake Regional Medical Center. The navigator can help answer your questions, provide pre-surgical information, and assist with your discharge to ensure it goes smoothly. They help improve physician alignment by reducing communication barriers and help patients develop their own goals.
Should you have any questions or concerns, please call 757-312-6758.
Comprehensive Diagnostic Services
Our comprehensive diagnostic services include MRI, CT Scans and other imaging techniques performed by musculoskeletal fellowship-trained radiologists, ensuring accurate interpretation specific to your needs.
Education & Resources
For better outcomes we require you to attend our Joint Replacement Class 4 weeks prior to your surgery. The class lasts about 1½ hours and is held on Mondays at 11am at the Lifestyle Health & Fitness Center. Please bring our Joint Replacement Guide to the class.
Sign up by calling 757-312-3048.
MAKOplasty Surgical Procedure
Chesapeake Regional Medical Center offers MAKOplasty for knee and hip pain. MAKOplasty robotic arm technology enables surgeons to perform personalized partial knee and total hip replacement surgery, resulting in fewer complications and a shorter recovery time allowing you to return to your daily activities more quickly.
This technology offers the potential for a higher level of patient–specific implant alignment and positioning to accurately reproduce the surgical plan, an aspect not consistently achieved in manual techniques. Accurate alignment and positioning of hip implants are important factors affecting surgical outcomes and the lifespan of implants.
Locations
1
2
3
Awards & Accreditations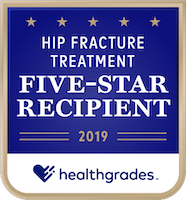 2019 Five-Star for Hip Fracture Treatment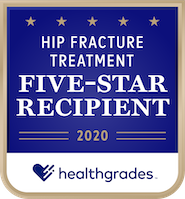 2020 Five-Star for Hip Fracture Treatment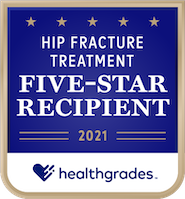 2021 Five-Star for Hip Fracture Treatment