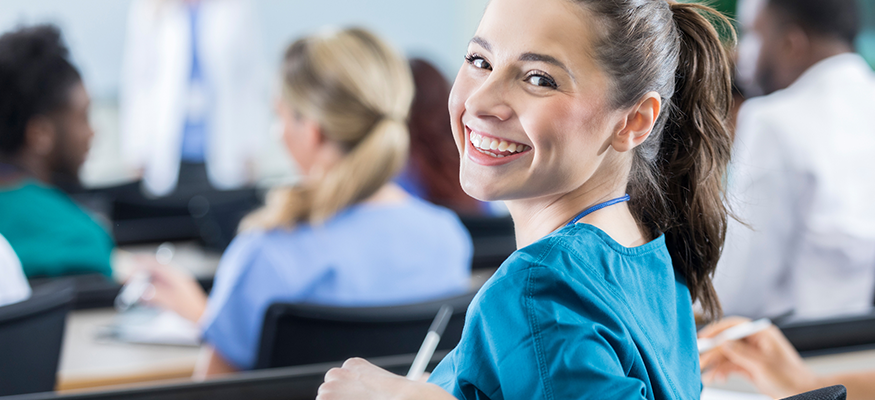 Summer Externship & Scholarship Program
Chesapeake Regional Healthcare (CRH) is accepting applications from rising high school seniors that are children of a CRH employee or who are currently enrolled at the Chesapeake Career Center. CRH will also accept applications from certain high school seniors (such as those in the LPN 1 program) returning in the fall through Chesapeake Public Schools' Adult and Continuing Education program.
The intent of this program is to provide on the job training and mentorship experience to those individuals planning to attend higher learning university/college in the Hampton Roads region. Each extern will be assigned a mentor during each rotation.
Eligibility criteria for acceptance into the Summer Work Externship Program:
Rising high school senior of CRH employee, rising high school senior, or senior of the Chesapeake Career Center as outlined above
Demonstrate 3.0 GPA or higher – attach last report card or transcript
Submit an essay on career plans in healthcare (see page 2 of the application)
Deadline: April 30, 2023
Complete the application and send supporting documentation electronically to: Christina.Duncombe@ChesapeakeRegional.com.
Chesapeake General Hospital Auxiliary Scholarship Fund
Each year the Chesapeake Hospital Auxiliary awards several scholarships to students currently pursuing a career in the health care field and who are attending a college or university or who are enrolled in an accredited program of study. The Holiday "Light the World" project contributes to the scholarship fund; the donations received for each sponsored holiday tree light make up the scholarships. There is a scholarship offered through the Barbara O. Hodge Endowment Fund. Barbara was a Life Member of the Hospital Auxiliary.
Completed applications should be mailed or delivered to:
Chesapeake Regional Volunteer Services
Chesapeake Regional Healthcare
736 Battlefield Blvd., North
Chesapeake, VA 23320
Chesapeake Hospital Authority Scholarship
The Chesapeake Hospital Authority Scholarship helps to nurture interest and education in a health care profession. High school seniors enrolled in one of the City of Chesapeake or northeast North Carolina public high schools who meet the requirements are eligible to apply. Please see below for more information.
General Requirements
Applicant must be accepted for admission and must plan to attend an accredited school majoring in a health care profession.
Applicant must be a graduating senior from one of the Chesapeake or northeast North Carolina public high schools.
Applicant must submit a completed application, including at least two letters of recommendation, high school scholastic transcript with SAT scores and FAFSA summary report.
General Information
The Chesapeake Hospital Authority Scholarship Committee shall make the selection of qualified applicants to receive a $5,000.00 scholarship based on the current school year.
In making a selection, the Scholarship Committee will consider academic record, test results, character reference, extra-curricular activities, community service, interest shown in a career in health care and financial need.
All applications will be reviewed and, based on the information provided, selected applicants will be notified shortly thereafter.
Those applicants selected will be invited to attend the June Chesapeake Hospital Authority Board meeting dinner to participate in a short ceremony to award them a scholarship plaque and honor their accomplishments.
Applications must be postmarked no later than the date specified on the application.

If for some reason an application received does not have all required documents, it will be sent back, and if the deadline has past, the application will not be accepted late.

Completed applications should be mailed or delivered to:
Chesapeake Regional Healthcare
Attention: Administration - Hospital Authority Board Clerk
736 Battlefield Blvd., North
Chesapeake, VA 23320