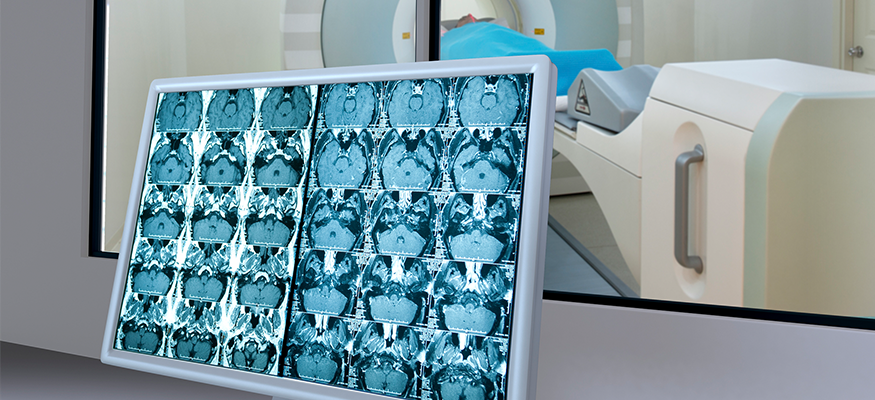 The Diagnostic Center of Chesapeake is a 19,000 square-foot facility that consolidates many of the hospital's diagnostic services including MRI, a comprehensive breast center and other imaging and laboratory services. Complementing the hospital's existing full-service imaging department and laboratory, the center provides patients with a conveniently located, easily accessible option for diagnostic services. Radiologists are located on site, and other physicians, clinical specialists and services - including the Emergency Department - are just steps away if needed.
Diagnostic Services
X-Rays
X-rays are a type of radiation called electromagnetic waves. X-ray imaging creates pictures of the inside of your body. The images show the parts of your body in different shades of black and white. This is because different tissues absorb different amounts of radiation. Calcium in bones absorbs x-rays the most, so bones look white. Fat and other soft tissues absorb less, and look gray. Air absorbs the least, so lungs look black.
The most familiar use of x-rays is checking for broken bones, but x-rays are also used in other ways. For example, chest x-rays can spot pneumonia. Mammograms use x-rays to look for breast cancer.
Electrocardiogram (EKG)
An electrocardiogram (also called EKG or ECG) is a test that records the electrical activity of your heart through small electrode patches attached to the skin of your chest, arms, and legs. An EKG may be part of a routine physical exam or it may be used as a test for heart disease.
Scheduling an Appointment
Appointments for scheduled diagnostic testing are from Monday through Thursday from 7am to 7pm , Fridays from 7am to 5:30pm, and on Saturdays from 8am to 12pm. When needed, same-day appointments are available. Call 757-312-6137 to schedule.
Walk-in appointments are available for routine X-rays, EKGs and laboratory services from 7am -7pm Monday through Friday.
All commercial insurances are accepted, including Optima, for diagnostic imaging services at Chesapeake Regional Healthcare.