It is Never Too Late to Start Exercising, A Personal Story
No matter your age, exercise can benefit your health and mindset. Cor Kikstra, age 81, of Chesapeake, Va., has been working out at Chesapeake Regional's Lifestyle Health & Fitness Center for more than 17 years. The following is his exercise story.  
How long have you been exercising at the Lifestyle Health & Fitness Center?
I've been a member of the Lifestyle Health & Fitness Center at Chesapeake Regional since 2005. I became a member after experiencing a heart event and receiving a referral to the Cardiac Rehabilitation Program, which is also housed at the Lifestyle Center. The rehab staff really reiterated the importance of continuing to exercise on a regular basis, so I joined and have been coming ever since. I chose this center because I liked the proximity to the hospital and medical staff. I have not experienced a heart event since joining.
What is your favorite exercise/class/machine in the gym?
The classes are the best part of the gym, because you develop a camaraderie with the other participants. They keep you focused and the exercises differ daily. Cor has been attending the Lite Fitness class at 6:45 a.m. daily for more than eight years.
Why do you exercise?
I exercise for my heart, to stay healthy and to maintain my weight. Working on my balance and flexibility are also a priority for me. Since joining, have you tried something new or out of your comfort zone?  Initially, the Lite Fitness Class was intimidating, but over time I met other members who attended and I worked up the nerve to try the class. I ended up enjoying it more than exercising alone, especially because it's always different and focuses on all areas of fitness.
How does exercising impact your life mentally/physically?
Exercise gives me a reason to get up early, and I feel so much better afterwards. I have made new friends at the fitness center and we all go to breakfast once per week. I have noticed a difference in my ability to do daily tasks, like tying my shoes and balancing on one leg– even getting in and out of my car is a lot easier.
What would you say to someone who may be intimidated about starting an exercise program due to their age or lifestyle factors?
Always be open to trying new things and don't overthink it. Just do it.
Learn more information about the offerings at the Lifestyle Health & Fitness Center.
Exercise recommendations by age group are available on the CDC website.  Always consult your primary care provider before beginning a new exercise program. 
Featured Image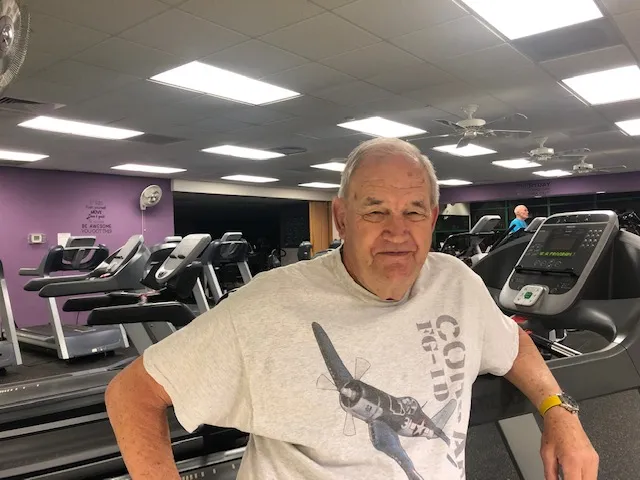 Sign up for our newsletter
We're committed to your privacy. Chesapeake Regional uses the information you provide to contact you about content. You may unsubscribe from these communications at any time.