A Center of Excellence

Our unique, comprehensive program has been named a Center of Excellence (COE) by the National Association for Continence. Designed for both men and women, Chesapeake Regional's Pelvic Health COE includes a dedicated team of surgeons, a pelvic health physical therapist and a program coordinator who work with primary care providers to develop tailored and effective treatment plans for patients.
Our entire program is designed to quickly and comfortably get our patients back to enjoying life.
Diagnostics
Pelvic floor disorders (PFDs) can be uncomfortable and embarrassing to talk about, but they are common. In fact, more than one-third of all women and one-fourth of all men in the United States will experience related symptoms in their lifetime. Innovative diagnostics help us obtain the most accurate answers, even with the most complicated pelvic issues.
Offering on-site Diagnostic Testing
Multi-channel urodynamics, including video-urodynamics
Urethral and anal sphincter electromyography
Neurophysiologic studies (e.g., electromyography, sacral reflexes, terminal motor latencies and pudendal nerve testing)
Endoscopy (cystoscopy, urethroscopy, anoscopy, proctoscopy, cystourethroscopy and colonoscopy)
Imaging studies (e.g., fluoroscopy, ultrasound, MRI, CT)
Pelvic floor muscle testing
Anal manometry
Anorectal sensory assessment
Measurement of rectal compliance
MRI Defecography / Dynamic MRI
Fistuologram
Motility studies
The following website may help you to define some of these clinical terms http://www.nafc.org/glossary/.
Treatment Options
The method of treatment used depends on individual diagnostic results. We offer our patients progressive treatment and rehabilitation options designed to produce results. Pelvic physical therapy is often recommended before or in conjunction with surgical treatment. Treatment plans may include any variety of options, including surgical solutions:
Physical Therapies
Biofeedback
Electrical stimulation
Interferential stimulation
TENS
Ultrasound
Cold laser therapy
Pelvic floor exercises
Manual Therapies
Myofascial release
Trigger point release
Surgical Solutions
Our minimally invasive methods include surgical options which allow for smaller incisions, a speedier recovery and possibly even less discomfort:
Laparoscopy: This type of surgery allows surgeons to perform surgery through keyhole-sized surgical openings in the abdomen using a camera.
Robot-Assisted Surgery: An alternative to both traditional open surgery and conventional laparoscopy, our da Vinci System enables surgeons to perform complex and delicate procedures through very small incisions with unmatched precision.
Transurethral
Transvaginal
Locations
1
2
3
Awards & Accreditations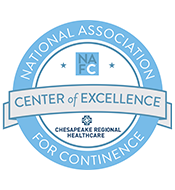 Designated a Center of Excellence by the National Association for Continence