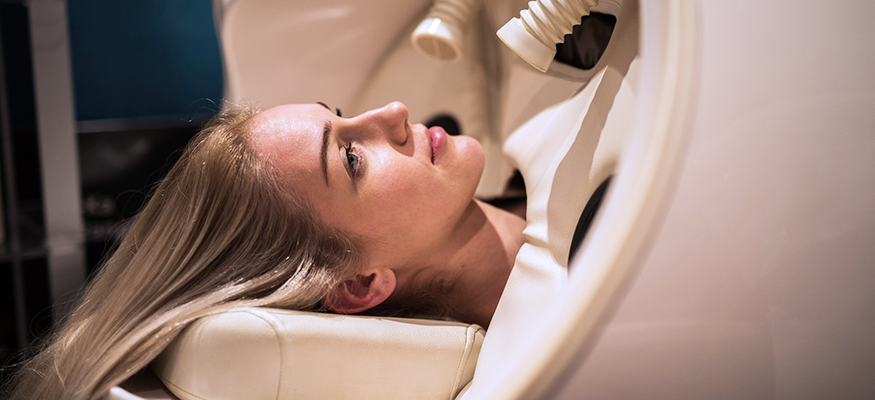 What is Hyperbaric Oxygen Therapy?
Hyperbaric Oxygen Therapy (HBOT) is a medical treatment that allows patients to breathe 100 percent oxygen under pressure in a hyperbaric chamber. Breathing oxygen under pressure allows oxygen to be delivered to the bloodstream in a highly efficient way, promoting cellular regeneration, tissue oxygenation, collagen distribution and the increased effectiveness of antibiotics.
Preparing for Your Visit
Patients will experience pressurization in the beginning of treatment. The gradual increase in pressure often pushes on eardrums and creates temporary discomfort, similar to the feeling experienced when landing in an airplane. Staff members will instruct patients on various methods of relief.
How long does treatment last?
Approximately two hours.
Can I bring family or friends?
Family members, significant others and friends are encouraged and welcomed to participate in the orientation process as well as accompany patients during treatment. Children are strongly discouraged.
Can I eat and drink before treatment?
Do not consume soft drinks or gas-producing food two hours before treatment.
What should I wear?
Cotton clothing will be provided. Street clothes and shoes are not allowed in the chamber. Please leave valuables and jewelry at home.
How do I cancel my appointment?
Patients with active MyChart accounts can view upcoming appointments and cancel their Wound Care appointments using MyChart by following these steps:
Log into your MyChart Account
View your upcoming appointments in MyChart by going to the 'Upcoming Visits' page
To cancel an already scheduled Wound Care appointment, click 'Cancel appointment'
You may indicate a reason for cancellation, but it is not required
Click the 'Confirm Cancellation' button
You may also cancel by calling our office at 757-312-6510.