Do I Have Postpartum Depression?
It's common for women to experience the "baby blues."
Feeling stressed, sad, anxious, lonely, tired or sleepy after childbirth is natural. But some women – up to 1 in 7 – experience a much more serious mood disorder called postpartum depression or PPD.  
Unlike the baby blues, PPD doesn't go away on its own.
It can appear days or even months after delivering a baby and last weeks or months if left untreated. PPD can make it hard for you to get through the day, and affect your ability to take care of your baby, or yourself. Postpartum depression does not discriminate. It can  affect any woman regardless of income, age, race or ethnicity, culture, education, ease of pregnancy or number of children.  
What Are the Symptoms of PPD?
The warning signs are different for everyone but may include:
A loss of pleasure or interest in things you used to enjoy, including sex
Eating much more, or much less, than you usually do
Anxiety, all or most of the time, or panic attacks
Racing, scary thoughts
Feeling guilty, worthless, or blaming yourself
Excessive irritability, anger, agitation, or mood swings
Sadness, crying uncontrollably for long periods of time
Fear of not being a good mother
Fear of being left alone with the baby
Inability to sleep, sleeping too much, difficulty falling or staying asleep
Disinterest in the baby, family, and friends
Difficulty concentrating, remembering details, or making decisions
Thoughts of hurting yourself or the baby  
If these warning signs or symptoms last longer than two weeks, you may need to seek help.  
What Can I Do?
Don't face PPD alone
Seek help from a psychologist licensed mental health provider; or contact your primary health care provider
Talk openly about your feelings with your partner, other mothers, friends, and relatives
Join a support group for mothers and if you can't find one, ask your health care provider for suggestions
Find a relative or close friend who can help you take care of the baby
Get as much rest as you can (even if you have to ask for more help with the baby)
As soon as your doctor or other primary health care provider says it's OK, take walks, exercise
Be realistic about what you can do while taking care of a new baby  
Postpartum depression is not your fault — it is a real, but treatable, psychological disorder.
When it comes to PPD, early detection and treatment make all the difference. If you, or someone you know, shows symptoms of depression and anxiety, either during pregnancy or after childbirth, a psychologist or other licensed mental health provider can help. There are effective treatments for PPD, including psychotherapy, often combined with antidepressant medication. 
Featured Image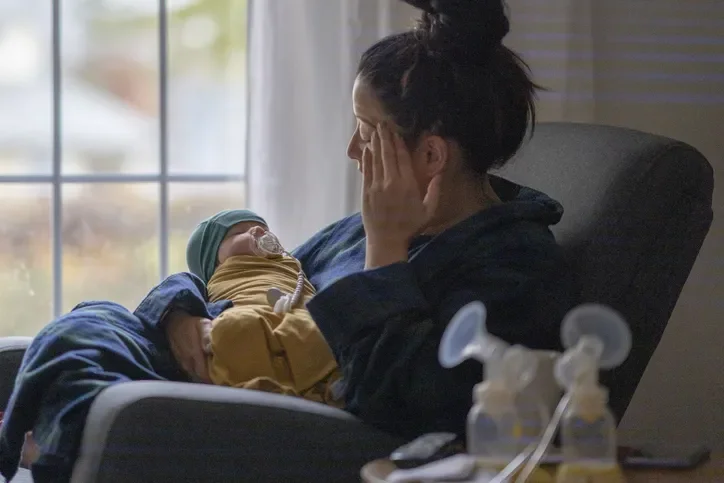 Carri Folwaczny, MSN, RN, CPAN, is the Nurse Manager of the Mother Baby Unit, Lactation Services and Perinatal Education at Chesapeake Regional Medical Center. She received her Master of Science in Nursing degree, with a focus in Nurse Administration, from Liberty University, in Lynchburg, Va. and her Bachelor of Science in Nursing degree from Purdue University in West Lafayette, Ind. Carri also holds a certification in Perianesthesia nursing from the American Board of Perianesthesia Nursing. She has cared for patients on the Mother Baby Unit at CRH for more than 10 years. 
Sign up for our newsletter
We're committed to your privacy. Chesapeake Regional uses the information you provide to contact you about content. You may unsubscribe from these communications at any time.