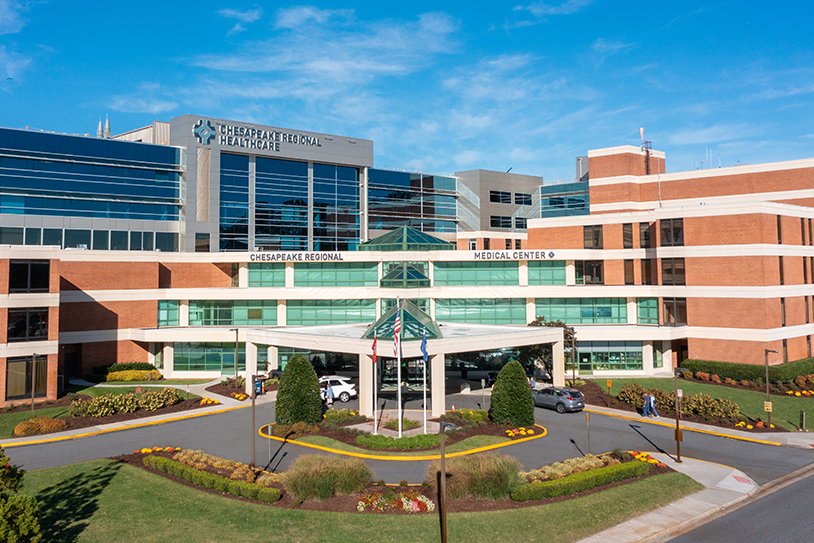 Chesapeake Regional Healthcare
Chesapeake Regional Healthcare is a health system laser-focused on innovation, known for making medical history in the region and providing patients with truly personal care. Its hospital, Chesapeake Regional Medical Center, is the only independent, community-based hospital in Hampton Roads.
We have the best heart attack survival rates of the major systems in the region, a nationally accredited Chest Pain Center, and open-heart surgical care coming in 2024. With a state-of-the-art neuro-interventional suite, comprehensive cancer care, the most preferred Labor & Delivery program in the area, over 40 practice locations and approximately 600 physicians on staff, Chesapeake Regional's technologically advanced health care saves lives every day.
New technologies, state-of-the-art facilities, breakthrough clinical protocols and leading-edge electronic information systems make each patient's care faster, safer and more effective. These powerful wellness initiatives result in better patient outcomes, higher satisfaction, more holistic treatment and fewer complications.
Our Mission
Chesapeake Regional Healthcare and its affiliated partners will improve the health and well-being of the communities served.
Our Values
Service
We put service first for our patients, their families and all who work here.
Dignity
We treat each other with dignity and value the ideas and perspectives each individual brings.
Safety
We advance health through the continuous pursuit of evidence-based, coordinated care.
Integrity
We are open, honest and trustworthy. We live our values.
Innovation
We will embrace new ideas and thinking to improve what we do.