A Maternity Nurse's Guide to What NOT to Pack in Your Hospital Bag
You may be full of anticipation about delivery, but your bags shouldn't be overflowing.
There are many important items you should bring to the hospital in preparation for your stay, but you can lighten the load by leaving a few at home.
Ideally it's best to begin prepping a bag after 32 weeks of pregnancy. While overpacking in excitement for the baby is natural, avoid overpacking by omitting:  
Diapers and wipes. The hospital will provide for all diapering needs a baby may have.
Multiple outfits. The hospital will provide swaddling blankets and onesies. Simply bring a going home outfit and clothes for in-hospital pictures. Bottles.The hospital will support any feeding needs for the baby while in the hospital.
Wipe warmers. These are bulky and are better left for use at home.  
Video gaming systems. Hospital televisions are not equipped for entertainment add-ons. Trust me, you'll have plenty to do once the baby arrives!
White pillow cases and linens. If you bring a pillow, boppy or other cloth items from home, be sure to skip the bright white, as these items often get stained while in the hospital.
Valuables. In the hustle and bustle of labor and delivery, valuable items can get misplaced. Expensive or sentimental items are best left at home.
For more information about preparing for baby, consider attending a prenatal class at Chesapeake Regional Healthcare.
Featured Image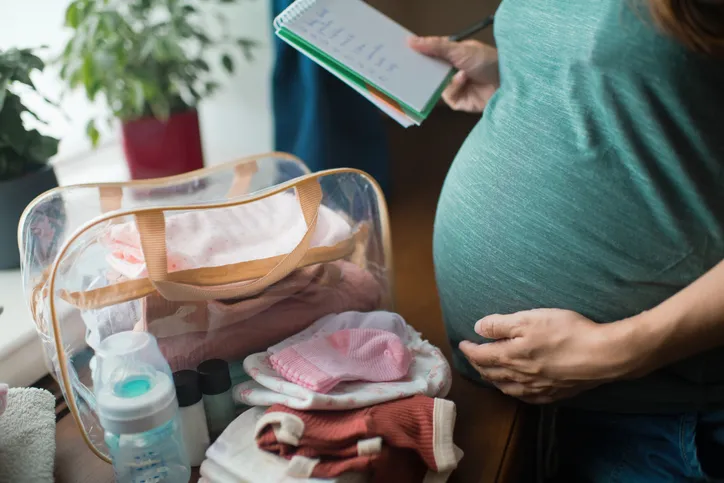 Carri Folwaczny, MSN, RN, CPAN, is the Nurse Manager of the Mother Baby Unit, Lactation Services and Perinatal Education at Chesapeake Regional Medical Center. She received her Master of Science in Nursing degree, with a focus in Nurse Administration, from Liberty University, in Lynchburg, Va. and her Bachelor of Science in Nursing degree from Purdue University in West Lafayette, Ind. Carri also holds a certification in Perianesthesia nursing from the American Board of Perianesthesia Nursing. She has cared for patients on the Mother Baby Unit at CRH for more than 10 years. 
Sign up for our newsletter
We're committed to your privacy. Chesapeake Regional uses the information you provide to contact you about content. You may unsubscribe from these communications at any time.