Don't Wait to Talk About Hospice
Death is a difficult word to say, much less contemplate. 
Dying is a part of life, we will all experience it eventually.  It is so important that we discuss with family and health care providers about how we want to be cared for at the end of life.  It is never too early to share your beliefs and wishes with those closest to you.
Hospice is often misunderstood. 
People frequently equate it with the failure of medical care and imminent death. Hospice care is really about living life as comfortably and joyously as possible after the diagnosis of a terminal illness. I became a hospice nurse because I wanted those in my care and their loved ones to enjoy those final weeks and months as fully as possible.
Hospice can be initiated before the last days of life.
It is unfortunate, but many people still are referred to hospice in the very last days of life. Ideally, hospice care can be initiated once a physician caring for a sick person feels their life expectancy is six months or less, if the illness follows the expected course. Additionally, the patient and family must agree with hospice care and plan to focus on comfort and quality of life, rather than continuing with aggressive treatments that are usually futile. A last minute hospice admission is of limited benefit to patient and family; it frequently is provided in a time of crisis. In fact, when someone is only enrolled in hospice for a few days, the hospice care is often mistakenly associated with the negative aspects of the dying process. Timely admission to hospice care can actually be a very positive and uplifting experience during an otherwise very difficult and frightening time.
Hospice is not a place. It is a philosophy of care. 
Nearly all of our patients remain in their home during their end of life journey. While there, hospice team members provide physical, emotional and spiritual care.  It is truly a team approach to care, and involves not just medical and nursing care, but social work services, chaplaincy support and trained aide and volunteer assistance.  Members of the hospice team visit regularly, but we are not in the home 24/7. An R.N. is always available by phone for after-hours questions or need for assistance. Hospice care is focused on the patient and the family and it is not limited to strictly symptom management.
Hospice care is not depressing, as we are there to support life, not hasten death. Family members often remember the good times and "sweet moments" that occur during the course of hospice care.  When the patient and family needs are addressed, there is more space for life to go on. Babies are born, grandchildren graduate from school and people even get married during the course of hospice care. 
My point to anyone contemplating hospice care is that there are still so many good days to be enjoyed.  
I encourage all patients and families to initiate a discussion with their treating physician as early as possible about goals of care, and how that care is to be conducted. 
 At any point in the process of receiving care, it is okay to ask:
"Is it time to talk about hospice?"
"How will we know when it is time to consider hospice?"
Family members can also call a hospice agency and request information at any time.  Hospice is a covered benefit under Medicare, Medicaid as well as most private insurances. Hospice care is also provided to uninsured people.  Most hospice agencies are willing to do a "courtesy" information visit with no obligation.
The discussion about hospice may be difficult at first, but it will definitely be a conversation worth having.
Featured Image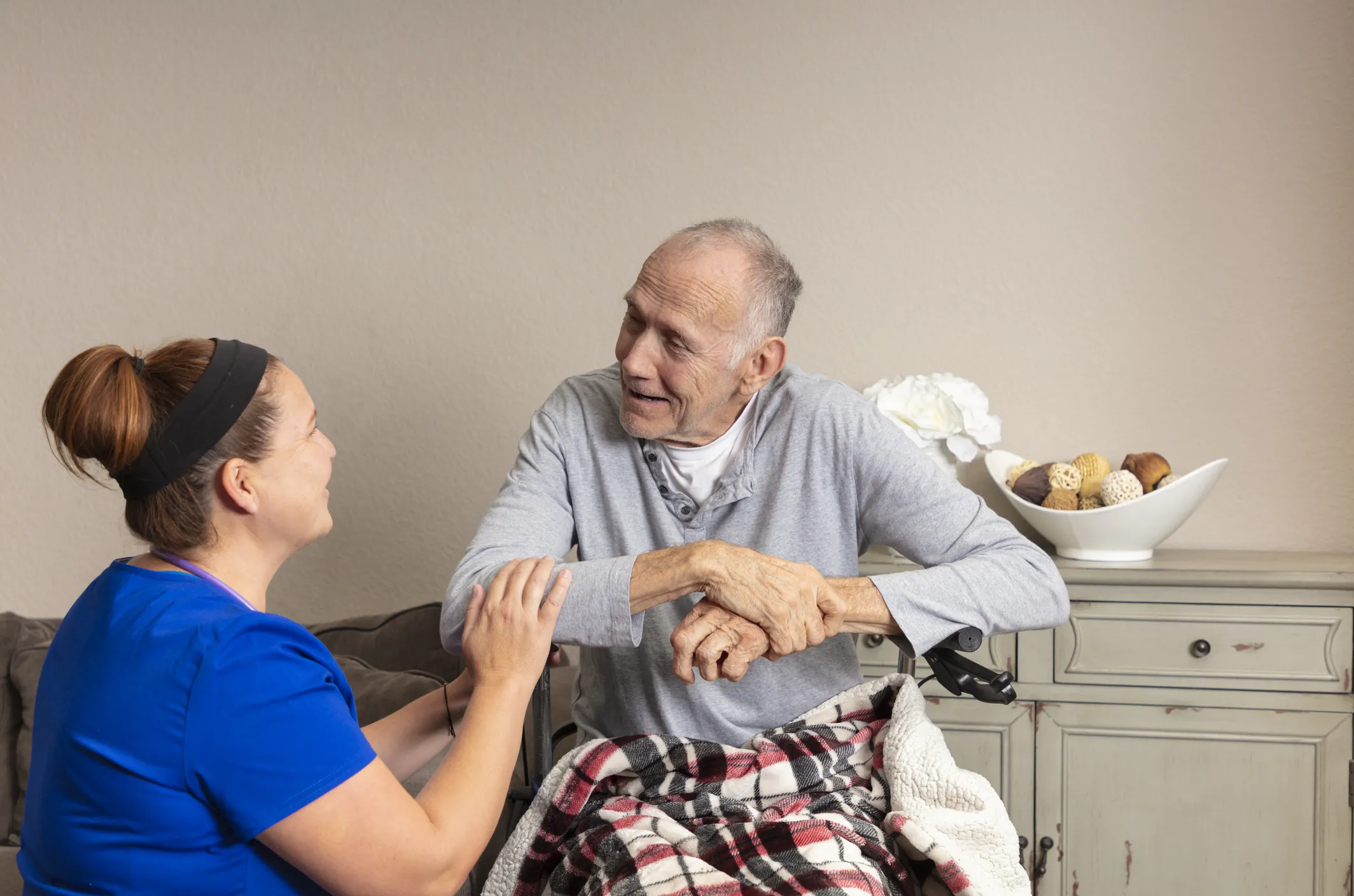 Morgan Allen is the Director of Post Acute Care. Morgan oversees Palliative Care, Home Health, Hospice, Lifeline, and the Transitional Care Clinic.
Sign up for our newsletter
We're committed to your privacy. Chesapeake Regional uses the information you provide to contact you about content. You may unsubscribe from these communications at any time.