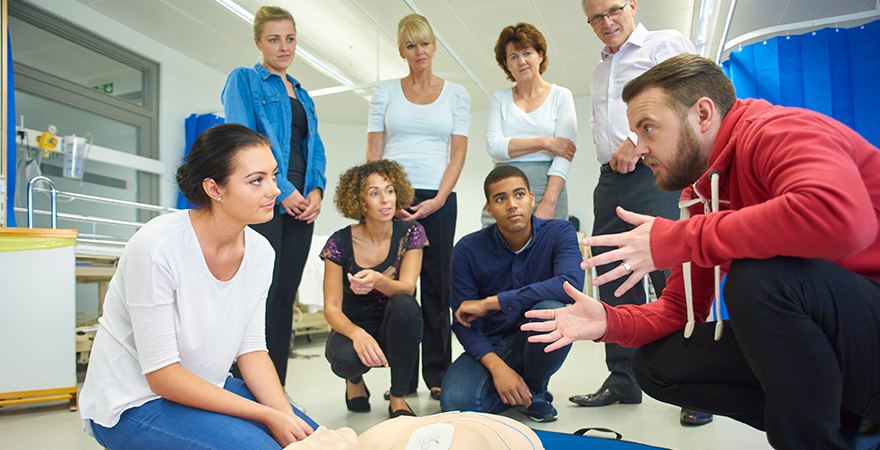 Heartsaver First Aid, CPR, AED In-class Course
The AHA's Heartsaver First Aid CPR AED course trains participants to provide first aid, CPR, and use an automated external defibrillator (AED) for an adult, child, and infant in a safe, timely, and effective manner.
$100 fee (includes textbook)
Classes: Saturdays & Tuesdays from 8:30am-3pm
Dates:
June 7
July 16
Aug. 13
Sept. 13
Oct. 8
*Ask for daycare/preschool pricing
Heartsaver First Aid, CPR, AED Blended Course (online & in-person skills check)

The Heartsaver® First Aid CPR AED Online course is taught in a blended learning format covering adult, child, and infant CPR. Students must complete the online portion, followed by the hands-on skills session conducted by our instructor. Students who successfully complete the online course and skills session, will receive a Heartsaver First Aid CPR AED Course Completion card, valid for two years.
This course offers the flexibility of two different course paths:
Heartsaver – Shorter Heartsaver course path offers the flexibility to add optional topics. Add on optional topics when required topics are completed.
Heartsaver Total – Comprehensive course designed for those requiring training to meet OSHA or other regulatory agency requirements.
$100 fee (includes online link and skills check)
Skills Check: Call to schedule

*Ask for daycare/preschool pricing