Small Steps to a Healthier Holiday Season
The holidays are hectic.
Choosing small, sustainable habits can help you stay healthy and energized throughout this busy, celebratory season. Remember, what you do most of the time matters more than what you do once in a while.
One indulgent meal or treat will not necessarily make or break your goals, but doing so over and over again can start to add up. Eat balanced meals throughout the week and get right back on track if you "overdo it" at a holiday party. 
A few guiding principles can help you enjoy a healthier holiday season.
Fuel your body.
Prioritize protein, whole grains and vegetables at meals. Eating a moderate amount of protein (roughly the size of the palm on your hand) and enough fiber from whole grains, fruits and vegetables can help you feel full for longer, and may even help decrease sugar cravings. Plan to eat adequate amounts of food throughout the day by eating three meals. This can also help prevent overeating later in the day. 
Make space for your favorite special treats. 
Try to eat special treats with intention and reduce distraction from screens while eating. Don't settle for treats you don't truly enjoy. Allow yourself to be fully present when eating, rather than eating quickly and mindlessly. Use all of your senses when eating: notice the appearance of the food, take in the scents, and eat slow, mindful bites that allow you to fully enjoy all the flavors of the meal. 
Take care of your basic needs. 
Get enough rest, engage in exercise you enjoy, and make a plan to eat three balanced meals per day. Lack of sleep can increase the stress hormone cortisol, and may lead to overeating to help with low energy and increased stress levels. 
Engage in healthy de-stressing activities.
Rather than relying on food, it is important to make sure you have many tools in your toolbox to help with the stress associated with this busy time of year. Try going for a walk, make time for a favorite hobby or spend time in nature. The holidays can be a stressful time with added pressures on your energy and expenses. You may be out of your normal routine, and possibly dealing with social and familial issues. It can be common to turn to food when these stressful events arise. However, quick-grab foods high in refined carbohydrates, added sugars and excess fat can make you feel worse in the long-run. 
To learn more about year-round healthy eating habits, consider making an appointment with a registered dietitian. 
 
Featured Image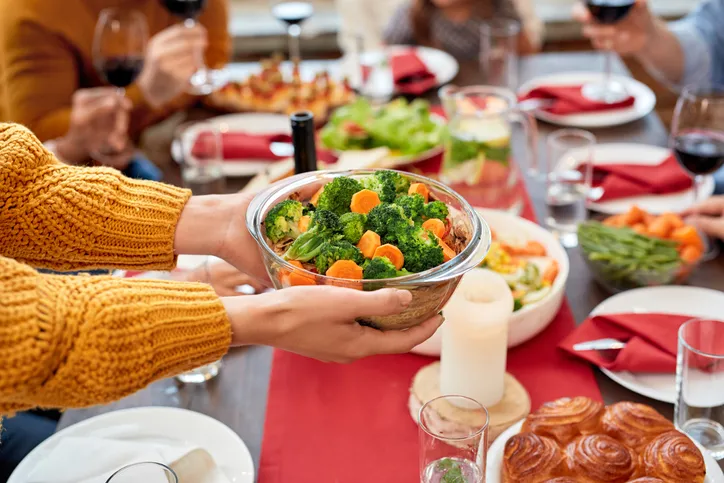 Ashley Reed, RDN, is a Registered Dietitian Nutritionist. She works at Chesapeake Regional's Lifestyle Health & Fitness Center in Diabetes and Nutrition Services.​
Sign up for our newsletter
We're committed to your privacy. Chesapeake Regional uses the information you provide to contact you about content. You may unsubscribe from these communications at any time.