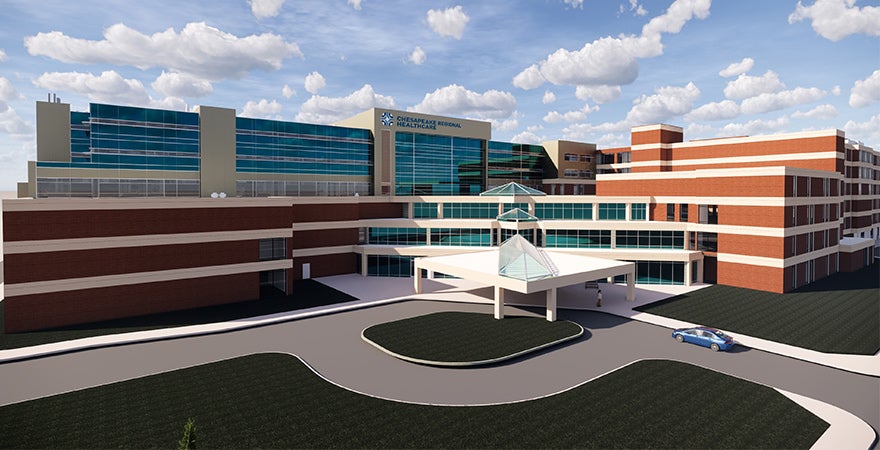 About the Foundation
The Chesapeake Regional Health Foundation (CRHF) was established in 1993 to help further the mission and vision of Chesapeake Regional Healthcare (CRH). With the generous gifts of time and donations, CRH has been able to grow and expand to meet the needs of the community that built it more than 40 years ago. Your philanthropy helps to ensure this tradition of caring continues for generations to come.
Our Mission
The mission of the Chesapeake Regional Health Foundation is to support Chesapeake Regional Healthcare by helping it respond to the evolving health care needs of the community. The CRHF is a 501(c)(3) nonprofit organization.
Our Leadership
The Chesapeake Regional Health Foundation Board is a volunteer board formed to carry out and support the philanthropic, scientific and education purposes of Chesapeake Regional Healthcare
Our Team
Elisa Wills, Chief Development Officer
Marcia Rand, Executive Assistant
Alexis Krenzke, Database Coordinator
Derek Via, Development Coordinator
Erin Geary, Development Coordinator
Contact the Foundation
Phone
757-312-6314
Email
foundation@chesapeakeregional.com
Ways to Give
There are many ways to donate and show your support for Chesapeake Regional Healthcare. Your generosity is greatly appreciated by our patients, their families, and our employees who serve them.
The Bra-ha-ha®
The Bra-ha-ha is an annual campaign in the fight against breast cancer where community members submit decorated bras to raise awareness and honor loved ones. It culminates with a bra decorating contest, an Awards Show & Auction and a 5K presented by the Chesapeake Regional Health Foundation.

Funds raised through The Bra-ha-ha help provide mammograms and related breast health services to eligible, uninsured members of the Hampton Roads community while also helping to fund advanced breast health technology at Chesapeake Regional.

The Brick Garden
Proceeds from engraved brick purchases help support services and technology needs at Chesapeake Regional.

Chapel Campaign
This renovation will allow us to expand our pastoral care programs.

Lifestyle Giving Campaign
Help the Lifestyle Health & Fitness Center make improvements and enhancements!

Tribute Giving
Memorial or honor gifts can be made via cash, check, or through the form below.

Planned Giving
A planned gift or bequest gives long-term support to Chesapeake Regional Health Foundation.

Gifts of Stock
To donate gifts of stock certificates, call us at 757-312-6314 or email foundation@chesapeakeregional.com.

General Donations
Want to contribute but not sure where to give? Donate using our general form below and we'll make sure it goes to a good place!
Volunteer
The Chesapeake Regional Health Foundation is fortunate to count among its supporters a tireless and dedicated group of volunteers. It is due in large part to their selfless donation of time and talents that we are able to host some of our signature events, such as the annual gala and Bra-ha-ha. Volunteers also serve an invaluable role in the Foundation office, where they assist with a range of administrative tasks.
For those considering careers in philanthropy, CRHF also accepts a small number of volunteer interns each year. Interns assist with a wide variety of duties, including special events, administrative duties and fundraising opportunities.
If you would like to learn more about becoming a CRHF volunteer, please call 757-312-6314.