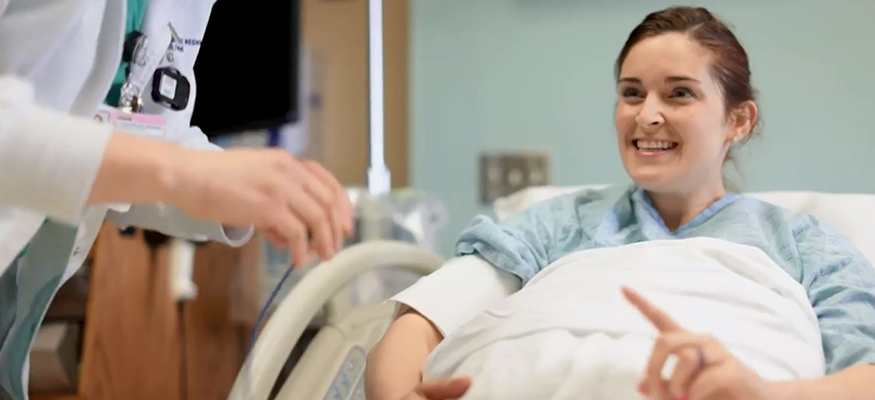 Overview
The Chesapeake Regional Health Foundation (CRHF) is committed to supporting the mission of Chesapeake Regional Healthcare: improving the quality of life for our community. Thanks to your commitment, the Foundation has raised over $4.5 million since 2012 to support quality health care in our community.
There are many ways to donate and show your support for Chesapeake Regional. Your generosity is greatly appreciated by our patients, their families, and our employees who serve them.
Tribute Giving
Memorial Gifts
A memorial donation is a meaningful tribute that provides a unique opportunity to honor loved ones while helping us provide the excellent, quality care our community has come to expect.
Honor Gifts
Honor gifts are a wonderful way to acknowledge special people or life events, such as the arrival of a new baby. Or consider making a donation in honor of a doctor, nurse, health care provider or other person who has had a meaningful impact on your life. Notification of your donation will be sent to the person or family you designate without disclosing the amount of your gift, and your philanthropy will benefit the programs and services of Chesapeake Regional.
Memorial or honor gifts can be made via cash, check, or through online giving. Please make checks payable to Chesapeake Regional Health Foundation.
Gifts may be mailed to:
Chesapeake Regional Health Foundation
736 Battlefield Boulevard, North
Chesapeake, VA 23320
Planned Giving
A planned gift or bequest gives long-term support to CRHF and can bring a variety of financial rewards to you and your family. Whether you're thinking about a bequest, annuities or setting up a trust, you can make a difference for generations to come who need services at Chesapeake Regional.
Ways to Give
Will/estate bequest
Charitable trust
Endowment fund
Life insurance
Real estate
When considering any of these options, please be sure to consult with your attorney, CPA or financial advisor to ensure you are making the best financial decisions for you, your family and CRHF.
Chesapeake General Hospital Foundation DBA Chesapeake Regional Health Foundation is incorporated under the not-for-profit corporation laws of the Commonwealth of Virginia. The IRS has approved the foundation as a tax-exempt organization under Section 501(c)(3) of the Internal Revenue Code.
The following name and address should be used in wills, deeds and all other legal documents with respect to a gift or bequest.
Chesapeake Regional Health Foundation
736 Battlefield Boulevard, North
Chesapeake, VA 23320
Annual Campaign
Thanks to the support of our generous donors, the Chesapeake Regional Health Foundation raises over $800,000 annually to support many important services at Chesapeake Regional. To participate in Annual Giving, visit this page.
Gifts of Stock
To donate gifts of stock certificates, call us at (757) 312-6314 or email foundation@chesapeakeregional.com and provide the following information for audit and acknowledgement purposes:
Donor's name and complete address
Name and number of shares transferred
Date of the transfer
Hospital program to which the gift should be directed
Electronic Transfer
Your broker may transfer securities electronically into Chesapeake Regional Health Foundation's account.
Agency: Wilbanks Smith & Thomas, custody at Charles Schwab
Direct Transfer Code: 0164
Account Name: Chesapeake Regional Health Foundation
Account Number: 8005836
Physical Transfer
You may forward your stock certificate(s) directly to the Chesapeake Regional Health Foundation. Each stock certificate requires a stock power form. The stock powers should be signed and the signature guaranteed by your local bank or broker.
Mail the stock powers, along with a letter indicating your intent to make a gift, to the address below. Under separate cover, send the stock certificate(s) to the same address. For additional protection, we recommend that you send the certificate(s) via registered mail.
Mail to
Chesapeake Regional Health Foundation
736 Battlefield Boulevard, North
Chesapeake, VA 23320
Email: foundation@chesapeakeregional.com
Phone: 757-312-6314
Chapel Campaign
The Chapel Campaign renovation will allow us to expand programs such as weekly prayer meetings, family support, Ash Wednesday service, and hosting a memorial service for parents and families of lost infants.
Lifestyle Equipment Campaign
Grateful Patient
The Grateful Patient Program gives patients the opportunity to give back to the hospital and staff that went above and beyond their expectations. The recognized staff or team of staff will receive a note recognizing the show of appreciation.
Donate in honor of a staff member or team now.