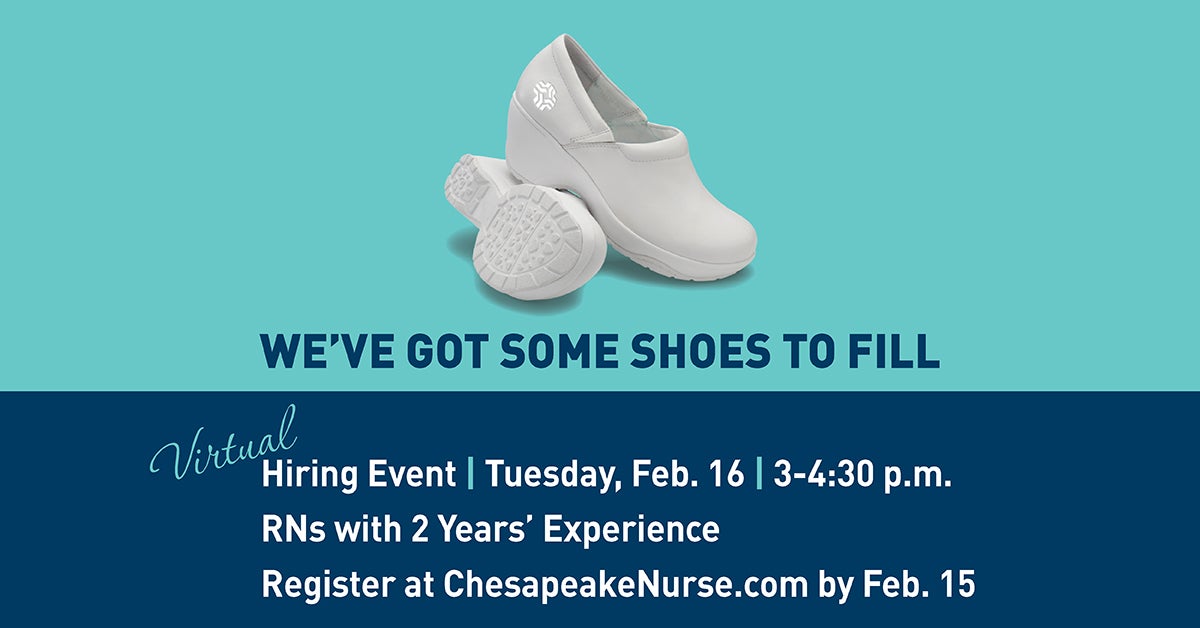 We've got some shoes to fill!
Join our Nurse Recruiters for a Virtual RN Hiring Event.
Chesapeake nurses are committed to delivering best-in-class, compassionate care to our patients through excellence in evidence-based practice and innovation. Because of this, our nurses are role models for nursing practice and are recognized as collaborators, educators and mentors.
As a large community hospital, we offer a variety of clinical areas for nurses to practice. CRH's unique position as one of the few remaining independent hospitals in our area allows us to offer rewarding nursing careers with benefits supporting flexibility, financial security and work-life balance - an approach that empowers our nurses to realize their full potential at work, while still caring for their personal well-being and families at home.
Nurses who apply before March 1, 2021 will be eligible for a $2,000 sign-on bonus. Must have 2+ years of experience, sign a commitment agreement to work at CRH for one year and be hired into a full-time RN position in any eligible department. Part-time hires will receive a $1,000 sign-on bonus. Some positions may not be eligible for the bonus, please contact Human Resources at 757-312-6162 for more information.
Benefits at CRH:
Innovative personal enrichment programs
A family environment with a commitment to our community
Tuition reimbursement
Competitive compensation and benefit packages
Pay for professional certifications
Date: Tuesday, Feb. 16
Time: 3-4:30 p.m.
RSVP: Register for this virtual event by Monday, Feb. 15. Registrants will be sent a link to the virtual event the morning of.
Register here.
---